Mar 10, 2023
Cost of Renovating a House: Guide on Renovation & Remodeling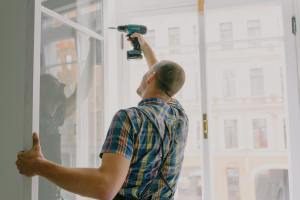 Are you considering a home renovation project? You may be filled with a lot of questions. How long will it take? How much will it cost? What are the different types of remodeling projects that I can take on? Should I DIY some tasks, or leave them with a contractor?
Here, you'll find a comprehensive guide to home remodeling projects, including the different types of renovations that you can make to your home, what the average costs are, plus plenty of cost-saving tips for any major project.
Cost To Completely Renovate a House
Renovating a home is a big project, and there are lots of costs associated with such an undertaking. Here are some of the factors that will impact the final cost of your project.
Demolition before renovation
One of the big costs associated with remodeling a home is the demolition that must take place before the home is renovated. The price typically falls within the range of $1,200 to $4,700. This cost includes the removal of debris, any dumping fees, permits needed, and tear out.
Amount of work
The amount of work involved in a remodeling project will have an impact on the final cost. This is often determined by the size of the home, the scope of the project, and even the condition of the home.
Home Size and Number and Types of Rooms
The size of your home, as well as the number and types of rooms you are remodeling, will have an impact on renovation costs. Kitchens and bathrooms tend to be the most expensive to remodel, as they involve various appliances and plumbing.
Home's Current Condition
If your home is in poor condition, the remodeling process might be more challenging than if the home is new and in good condition. For older homes or homes that haven't been built as well, you may encounter unexpected "surprises" that end up costing you more money.
Architect, designer, and contractor fees
Besides paying for the materials, you'll also need to pay any fees associated with the contractor, architect, and designer. Creating your own floor plan and doing the design yourself could be a great way to cut costs – as long as you are familiar with what you are doing.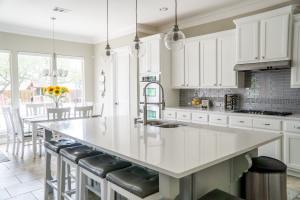 What is the average cost per square foot to renovate a house?
On average, home renovation costs about $10 to $60 per square foot. However, if you opt for premium products, you can expect to pay more. You can expect to spend $150 or more per square foot depending on the finishes and products you select.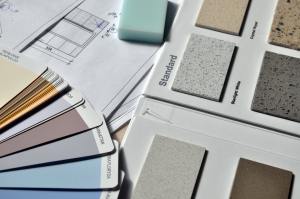 Additional Costs to Consider
There are other costs to consider when renovating a home. The cost often depends on which room you wish to remodel, and some rooms tend to cost more than others. You may also encounter existing damage that needs to be repaired, and you'll also need to consider the cost of redoing electrical work or your HVAC system. Here, we'll go over some of the additional home renovation costs you'll want to keep in mind.
Bathroom Remodel
A typical bathroom remodel can cost over $10,000, but small bathrooms can cost just $6,000. Using premium products will increase the cost by a lot. If you are looking to save money on your bathroom remodeling project, you can install features and fixtures that are budget-friendly.
Garage Remodeling Costs
Upgrading your garage can cost you anywhere from $1,500 to $50,000. Various improvements you can make include sealing the concrete floors, painting the walls, or adding storage shelves. You can also convert your garage to a living space, which costs about $86 per square foot.
Electrical, Plumbing, and HVAC Systems
The less exciting aspects of a remodel can cost you unexpected money. Rewiring a house can cost anywhere from $1,500 to $10,000. Installing new outlets can cost between $75 to $485 per outlet. Average plumbing costs can range from $350 to $2,000. And HVAC repairs cost an average of $350, while installing a new system costs between $5,000 and $12,500.
Repairing Existing Damage
When renovating a home, you may discover existing damage that you weren't expecting to find, such as termites, mold, and other issues. It's important to have extra cash put aside during a renovation project so that you can cover unexpected expenses such as these.
Bedroom remodel cost
Remodeling a bedroom is one of the least expensive home projects you can take on. The average cost is between $1,500 and $5,500 per room. Upgrades can include a new closet organization system, a fresh coat of paint, and new furniture.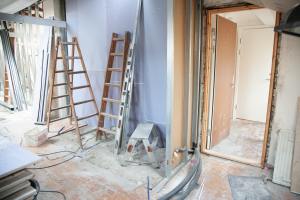 Home Renovation Costs: Types of Renovations
There are many different kinds of renovations that you can do in your home. Here are some of the most common types and the costs associated with them.
Whole-House Renovation
Renovation of an entire home can cost $48,000 or $10 to $60 per square foot. However, the cost can climb higher if you have a large home or use premium materials.
Gut and Remodel Renovation
This type of renovation involves tearing a house down to the studs and remodeling the framework into a living space. This requires a lot of labor and time, and it costs between $100,000 and $650,000, or between $60 to $150 per square foot.
Historic Home
If you are remodeling an historic home, this can cost between $100 and $200 per square foot. This comes at a much higher cost than remodeling a modern home, as the home may have outdated wiring or plumbing that may need to be upgraded. Keep in mind that if you remodel a home listed in the National Register of Historic Places, you may qualify for a grant.
Floor Plan Changes
If you need to change the floor plan of an area within your home, this can cost between $350 and $500 for minor upgrades or $2,000 for a more major project. Changing your floor plan generally involves knocking down or building new walls and changing the electrical work. You may need to hire a structural engineer to make sure that the changes meet safety codes.
Rehabbing a Home
Also known as house flipping, this type of renovation involves turning a house into an upgraded investment property for profit. This typically costs $10 to $60 per square foot. Luxury materials can increase the price for this type of renovation.
Home Additions
If your home is too small, many homeowners consider adding a home addition. These can cost between $20,000 and $81,000. You can add an additional bedroom, a second bathroom, or even a detached garage. This type of renovation will provide more space in your house, but they are often quite costly.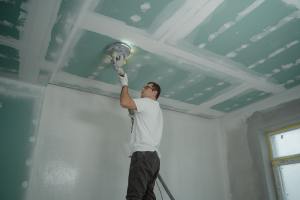 How to Save Money on Home Renovation Costs
Looking to cut costs on your home renovation? Here are some budget-friendly tips to keep costs as low as possible.
DIY vs. Hiring a Professional
There are some tasks that you can complete yourself, and this can help you save money by allowing you to skip the contractor. Some of the simpler tasks, such as painting the walls, are fairly easy to take on yourself. But depending on your skill level, you may consider taking on other tasks, such as installing drywall, installing the new sink in your bathroom, or putting the new shelves in your walk-in closet. Keep in mind what your abilities are – you don't want to take on a task that is too big for you to handle.
Choose Budget-Friendly Materials
A great way to save money is to opt for more budget-friendly materials. For example, subway tile is a popular and beautiful choice for tiling your bathroom or kitchen backsplash, and it doesn't cost as much as luxury tile would. The less luxury materials you choose for your home, the more money you will save.
Always Have a Backup Plan
Any major renovation can come with lots of unexpected costs. You never know what problems you'll encounter when you start to remove your home's interior walls. Be sure to have extra cash in reserve for when those expenses start to pop up.
FAQs
Is it cheaper to remodel or build a new house?
In most cases, it's cheaper to remodel, but it all depends on the size of the house, the scope of the home renovation project, and the condition that the existing home is in.
Is $100,000 enough for a home renovation?
$100,000 should give you plenty of cash for a home renovation project. The average cost of home renovation is around $48,186. However, you can expect to pay anywhere between $17,715 and $78,901 depending on the type of renovation and the materials you select.
What costs the most when renovating a house?
In general, your bathroom and your kitchen will cost the most to remodel, with the kitchen being the most expensive due to the cost of materials, including kitchen cabinets. Of course, it all depends on what types of materials you choose. Opt for budget-friendly materials to save money in these areas of your home renovation.
How much does it cost to take a house down to the studs?
This is called a gut and remodel renovation, and the average cost is between $100,000 and $650,000, or between $60 to $150 per square foot.
How long does a full gut renovation take?
This really depends on the size of the home and the scope of the project, but a gut renovation will typically take longer than a small-scale renovation project. Your contractor should be able to give you an estimate of the timeframe.
Sources
https://digitalroofingcompany.com/blog/is-a-new-roof-tax-deductible/
https://www.rocketmortgage.com/learn/home-renovation-costs
https://www.angi.com/articles/complete-house-renovation-cost.htm
https://sweeten.com/advice-and-faq/what-are-the-costs-that-go-into-gutting-a-home/